News / Blogs
Meeting with the Minister of Environment and Sustainable Development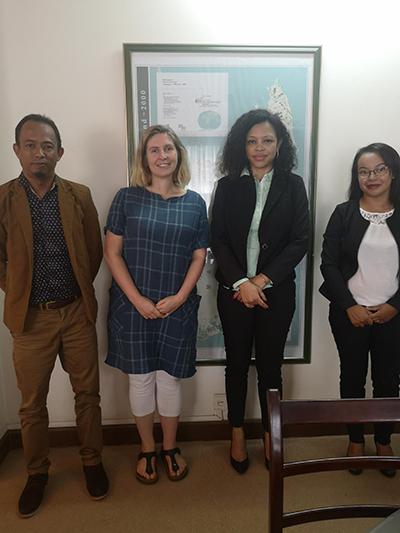 Three members of our team had the privilege to meet the new Minister of Environment and Sustainable Development, Dr Vahinala Raharinirina, on 25th February 2020. Our agenda was to introduce the Forest4Climate&People project and lay out how we can support the Ministry's efforts around green diplomacy. We specifically outlined the critical importance of a field training course targeting high-level decision makers and early-career practitioners on the social impacts of forest conservation and restoration programmes. Such training would considerably build the recipients capacity in international negotiations and increase their understanding of these social issues (example, social safeguards, land tenure, access to and sharing of benefits) which would, hence, increase their likelihoods of receiving international support.
Dr Raharinirina is an environmental economist by training and has expressed her wholehearted support for such endeavours. She stated in a social media post that "our project team has a wealth of experiences on these social issues" and she and her Ministry are eager to work much more closely with researchers like us and benefit from their expertise.
Madagascar's own promise is to restore four million hectares by 2030 under Bonn's challenge. While government and international donors may recommend or even prescribe national guidelines and national restoration and conservation strategies, the adoption of new land use practices or conservation efforts and their sustainability in the long term are ultimately in local communities' hands. The effectiveness of restoration and conservation efforts, therefore, depends on the extent to which social considerations are incorporated in policy design and practice, and these aspects lie at the heart of the Forest4Climate&People project.
National workshop on the 2020 – 2021 reforestation campaign. March 18-19, 2020 in Antananarivo
Over the last decade, Madagascar has lost 90,000 hectares of its forests each year with an average deforestation rate of 1.4% at the national level. The main causes are the extension of the agricultural area, mining, the practice of burning crops, and the exploitation of wood.
To tackle these issues, the Ministry of Environment and Sustainable Development, in partnership with USAID Hay Tao launched on 18 and 19 March a national workshop to disseminate guidelines and strategies on the implementation of the 2020 – 2021 reforestation campaign. The workshop was led by the Minister Dr Vahinala Raharinirina and the Director in charge of the environment at USAID, Agathe Sector, and were also attended by Forest4climate&People team members.
Reference framework on reforestation were handed in to the Regional Directorate of the Environment (DREDD), the Inter-Regional Directorate of the Environment (DIREDD) and the technical and financial partners: the "Plan Directeur Forestier National" (PDFN); the "Directives Nationales des Actions de Reboisement" (DNAR) and, some practical reforestation guidelines developed for Madagascar's four ecoregions, in collaboration with USAID: : wet, arid and semi-arid, dry and mangrove.  These documents will serve as technical and strategic guidance for reforestation planning.
World Environment Day: Forest4Climate&People researcher takes part in live TV debate involving the minister of environment and sustainable development
By Mirindra Rakotoarisoa
Inspired by World Environment Day, Malagasy TV channel Radio Television Analamanga (RTA) hosted a TV debate (also live streamed on Facebook) about Madagascar's forests and sustainable development.  The high-level panel was made up of Dr. Vahinala Baomiavotse Raharinirina (Madagascar's Minister of Environment and Sustainable Development MEDD), Mr. Ndranto Razakamanarina (President of the civil society platform Alliance Voahary Gasy), Mrs Claudie Razafintsalama (from Groupement National des Exploitants Forestiers de Madagascar GNEFM), and Ms. Alexandra Rasoamanana (from Malagasy Youth Biodiversity Network who manages the reconciling Protected Areas with Poverty Alleviation project.
The debate opened with a discussion of how a balance can be found between forest conservation and commercial logging in Madagascar. "Wood demand increases with population growth, increasing pressure on our forests", said Mrs Claudie Razafintsalama of the GNEFM. To overcome this, the President of the Alliance Voahary Gasy called for a restructuring of the forest and protected areas management system to truly combine rural development and environmental protection.
Issues related to environmental crimes and illegal exploitations were also raised including a discussion of why these are so difficult to tackle. The minister explained that they are working with the Ministry of Justice to combat this scourge. However, Alexandra Rasoamanana (from Forest4Climate&People) acknowledged that the sort of zero-tolerance approach they are taking for large-scale infractions is not the most appropriate approach for forest-dependent populations, particularly those that have been established prior to the establishment of protected areas. Moreover, she emphasized the importance of considering the needs of these forest-edge communities when implementing forest policy.
The very thorny issue of migration was also discussed. The minister acknowledged that lack of investment and infrastructure in the regions, combined with climate change, drives populations to migrate to forested areas. There are issues of stigmatization of migrants and they can add pressure on natural resources, said the Minister.
The second part of the debate focused on the perception of sustainable development by panelists. Alexandra Rasoamanana emphasized the interest that young people have in sustainable development because they are the one who will inherit the future. She said it is necessary to pay particular attention to young people in the elaboration of any public policies. She explained that Madagascar has a young population which will result in further population increase. Ndranto Razakarimanana of Alliance Voahary Gasy explained that sustainable development must combine economic development and environmental preservation and that this requires good governance and the development of a common long-term vision. Finally, Claudie Razafintsalama added that the perception of sustainable development differs from one individual to another, from one community to another, from one stakeholder to another and that a civic education at all levels is needed.
The overall conclusion was that environmental issues should not remain an area for environmentalists. In order to be able to protect the environment and achieve development, it is necessary or even imperative to promote a multisectoral approach, a better inclusion of all stakeholders for a long term and common vision.
Alex Rasoamanana said "Young and local communities are often marginalized in decision making process. This leads to decisions that reinforce inequities and social injustice".
You can watch the full debate on this link.