Latest News / Blog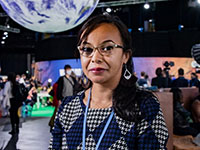 Forest4Climate&People research fellow (Dr Sarobidy Rakotonarivo) was interviewed by the journal Nature at COP26.
Publication date: 15 November 2021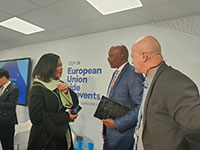 We were honoured that the trailer of our film was used by the Minister of Environment and Sustainable Development from Madagascar to bring local voices into discussions about climate finance at #COP26t an event on climate finance in the EU pavilion at #COP26
Publication date: 5 November 2021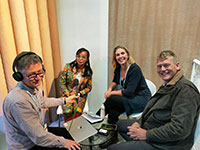 Part of our film 'Voices from the forest' was played on the 'Costing the Earth' programme, alongside an interview with two of our team.
Publication date: 3 November 2021
Project leader Professor Julia Jones wrote an article for The Conversation on why the COP26 agreement will struggle to reverse global forest loss by 2030, but why it matters to try.
Publication date: 2 November 2021
Dr Sarobidy Rakotonarivo from Forest4Climate&People chairs session at COp26 aiming to learn lessons from the last decade of REDD+ implementation.
Publication date: 1 November 2021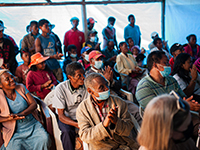 On the eve of COP26 Forest4Climate&People (in collaboration with the conservation organization Madagasikara Voakajy) organized for senior Malagasy policy-makers and representatives of the British government in Madagascar to visit a community on the edge of the forest in Madagascar. The event involved an innovative role-play exercise to explore local issues.
Publication date: 26 October 2021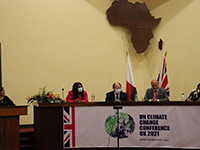 Forest4Climate&People were honoured to play a key role in Madagascar's pre-COP. We presented our film and Mirindra Rakotoarisoa spoke about the roles of forest in addressing the climate crisis in Madagascar.
Publication date: 21 October 2021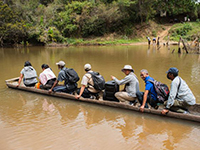 In collaboration with the Ministry of Environment and Sustainable Development, the Forest4Climate&People project recently convened and facilitated a sharing workshop to address social issues impacting the design and practice of forest conservation policies.
Publication date: 19 October 2021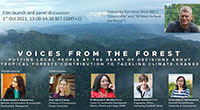 Our film 'Voices from the forest: putting local people at the heart of decisions about tropical forest' contribution to tackling climate change' was launched with an expert panel discussion and an audience Q and A.
Publication date: 4 October 2021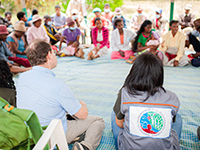 The Forest4Climate&People team have shown our film in four villages which contributed to making the film.
Publication date: 1 October 2021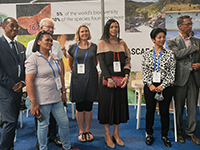 Our team worked closely with the Ministry of Environment and Sustainable Development and the Madagascar Biodiversity Foundation (FAPBM) at the congress in Marseille in September 2021
Publication date: 10 September 2021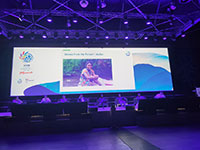 Our film about the impact of forest conservation policies on local communities was shown on the plenary stage at the IUCN World Conservation Congress in a session about how to achieve fair and effective conservation
Publication date: 7 September 2021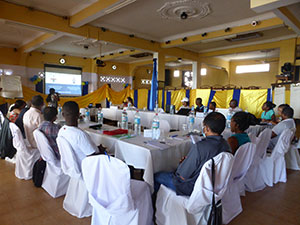 Last week (15–17 February 2021), the Forest4Climate&People team delivered a training in social safeguards for protected area (PA) managers, government authorities and people from the development sector in northern Madagascar.
Publication date: 23 February 2021
Publication date: 20 October 2020
Publication date: 26 September 2020
Publication date: 12 September 2020
Publication date: 20 March 2020
Publication date: 4 February 2020