Conservation and local people – informing Madagascar's policy on social safeguards around protected areas
As part of our project on protected areas and poverty alleviation, we held a national workshop co-hosted by the Ministry of Environment & Sustainable Development and the Fondation pour les Aires protégées et la biodiversité de Madagascar (FAPBM) in Antananarivo. The workshop was opened by the minister herself, Dr Baomiavotse Vahinala Raharinirina, who participated in a debate on the obligations of protected areas to ensure social safeguards for local people, reduce poverty and achieve sustainable development.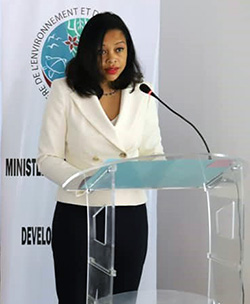 Dr Raharinirina, Minister of Environment & Sustainable Development, addressing the workshop. Credit
The workshop brought together civil servants, NGOs, protected area managers, researchers and others who have an interest in the relationship between protected areas and poverty alleviation. We presented the results of our research, alongside presentations from other stakeholders. The open discussion during the workshop was useful in clarifying many issues, including the need to clearly distinguish social safeguards (for which protected area managers are directly responsible) from broader questions of regional development, where protected areas must act as partners in a multi-sector effort. Participants at the workshop also highlighted the need for clearer guidance on planning, implementing and evaluating social safeguards around protected areas.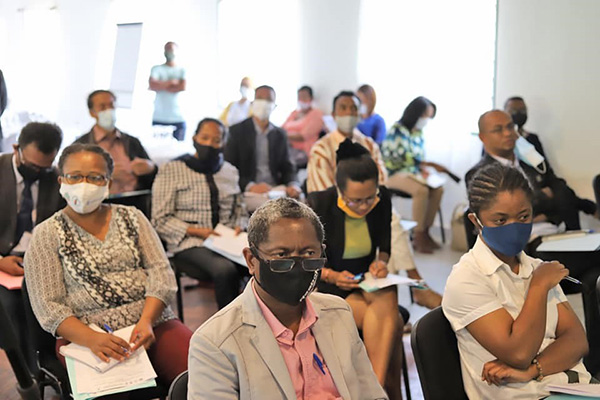 Participants at the workshop held in Antananarivo, Madagascar, Oct 2020 Credit
The minister, Dr Raharinirina said "it was an honour for us to discuss and reflect on the lessons from this review of protected area management. One of the benefits of the initiative that we have started is the ability to learn and improve where there are deficiencies."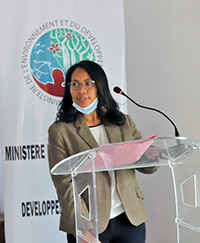 Project manager Alexandra Rasoamanana addressing the workshop. Credit.
The Ministry of Environment and Sustainable Development commented that: "Following this meeting, a strategy will be enacted to allow local communities around protected areas to benefit from their presence and reduce pressures on natural resources".
Since the workshop, we have been working closely with stakeholders to address these issues. We have been contributing to the development of FAPBM's new social safeguard policy, as well as participating in the ministry's technical committees on management plans and environmental and social frameworks for protected areas. At the request of the minister, we are developing a technical guide to social safeguard planning, implementation and evaluation.
Recordings of the plenary debates are available to watch here and here (in Malagasy).
Publication date: 20 October 2020