Training on social safeguards in the northern highlands of Madagascar
Last week (15–17 February 2021), the Forest4Climate&People team delivered a training in social safeguards for protected area (PA) managers, government authorities and people from the development sector in northern Madagascar. The three-day training, which was hosted by World Wide Fund for Nature (WWF) Madagascar, aimed to build PA managers' capacity on the roles of PAs in safeguarding local livelihoods and alleviating poverty. The workshop also aimed to facilitate the exchange of experiences and best practices among PA managers and other stakeholders.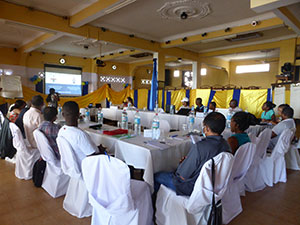 Participants at the training – © Sarobidy Rakotonarivo
Participants included PA managers from Madagascar National Park, WWF and Missouri Botanical Garden (MBG), the development sectors such as Helvetas and OSDRM (Organisation de Soutien pour le Développement Rural à Madagascar), researchers eg from CURSA (Centre Universitaire Régional de la SAVA), and government authorities from the Ministry of Environment and Sustainable development and the Ministry of agriculture in the SAVA region.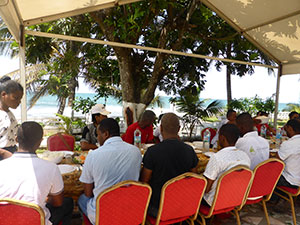 Participants sharing a meal with a nice sea view at Sambava – © Sarobidy Rakotonarivo
The learning objectives of the training were to help participants:
understand the different international and national conventions and frameworks on social safeguards, poverty alleviation and sustainable development in and around PAs,
develop understanding of ethical issues when engaging with local communities,
understand the local costs of conservation, issues involved in defining project affected persons, and the different forms of compensation for the negative social impacts of PAs (including the issue of customary rights within PAs),
understand and apply tools and methods in monitoring and evaluating the social impacts of conservation and safeguard projects.
The training methods were very interactive and participative. The short lectures were interspersed with group work taking different forms, such as a multicriteria decision making grid, a fishbone, a forcefield analysis, role play exercises, and a fishbowl discussion. In some of the sessions, the Forest4Climate&People team used a retrospective technique by asking PA managers to examine their own safeguard plans and assess any inconsistencies in the methods used or results disclosed in these plans. Participants all acknowledged the disparate methods and potentially biased results in these plans and the need for a standardised and more reliable tool to guide PA managers. One participant said: "We are walking in the dark – "sahala amin'ny dian' omby jamba" – which literally means blind cattle's walk- when it comes to social safeguards, we need a clearer tool to guide us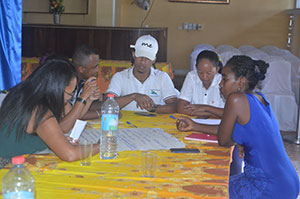 Participants doing some group work at the training – © Sarobidy Rakotonarivo
The training was also an opportunity to present some of our research results from the p4ges project on the local costs of conservation. We showed that these costs are significant in local terms, over long timescales and were largely under compensated. We argued that capturing global benefits such as carbon revenue and recognizing the rights of local people can help compensate for the local costs of conservation.
The training also included a whole session on ethics. We discussed why ethics are critically important in ensuring our actions do not harm people. We also explored a few dilemmas that conservation actors might face or have actually faced and reflected on what we should do in such scenarios. The ethics module was one of the most fascinating sessions. "I have never thought of ethics this seriously before, I have recently experienced one of the scenarios we discussed, and while there might not be any clear didactic rules for how to solve the issue, the group discussions have helped me shed more light on alternative actions and most importantly precautions that we PA managers could have taken to prevent the issue in the first place", said a PA manager.The project team has also learned a lot from PA managers who genuinely want to make a difference and often feel conflicted when their actions might negatively impact people.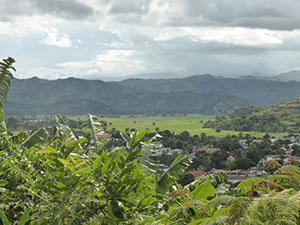 The Andapa basin in Northeast Madagascar – © Sarobidy Rakotonarivo
On the last day, participants also shared the challenges they have faced in designing and implementing social safeguard measures within PAs, and the strategies they used to overcome these challenges. Some participants found this session very useful as they could identify a few commonalities with other participants' experiences, as well as new approaches they would be keen to implement. For instance, one of these approaches is WWF's partnership with the private sector which aims to incentivise pro-environmental behaviour and secure additional funding by paying farmers a premium price for vanilla that is produced in an environmentally economic and sustainable way.
A vanilla crop in an open field in northeast Madagascar – © Sarobidy Rakotonarivo
Overall, participants' evaluation of the training was very positive. They found the modules covered, the group work, the various interactive tools, and the sharing session very useful. However, participants suggested that the training could have taken place over a longer timeframe, ideally five days instead of three to allow for more discussion and a better assimilation of new concepts and methods. Participants also commented that a one-day field trip incorporating interactions with local communities could have made the training more comprehensive. Such field-based training, which should ideally be co-organised with local communities, is on the agenda of the Forest4Climate&People project. In addition to this technical field training, we are also planning to organise a village retreat for those involved in conservation/restoration policy at a high level (but from different sectors). The aim of this retreat is to spend time together in a rural village context to discuss both: i) some of the ways in which conservation of forest and landscape restoration policy can impact local people, and ii) how greater involvement of local people can result in better outcomes for conservation and restoration.
Publication date: 23 February 2021